Designed by Electrologists, for Electrologists
With over 30 years of electrolysis hair removal experience, the RLX® team have designed a needle with the therapist in mind.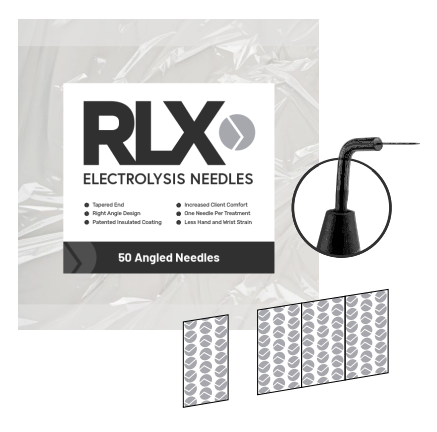 Our tapered, angled, insulated coated needle allows you to give your clients a more effective,
comfortable treatment. Available in F Shank size 5, 6 & 7.
Buy RLX Needles Now
Tapered end to give you a smooth, precise, comfortable insertion into the follicle.

The right-angled design allows you to sit at the head of the couch.

Insulated coating protects the skin surface and targets your heat where its required.
Founder of RLX®, Rachel Louise Cross, explaining how using the RLX needle can benefit you and your clients.
We have produced a convenient Tester Pack for you to try RLX Needles in all 3 sizes to see if you enjoy working with a needle which has an exceptional insulated coating that will last the entire treatment & one that allows you to sit in different seated positions, which we hope will allow you a more comfortable way of working.
Follow our Social Media channels for tips and illustrations of our RLX Needles in action by Rachel Louise Cross.
Learn More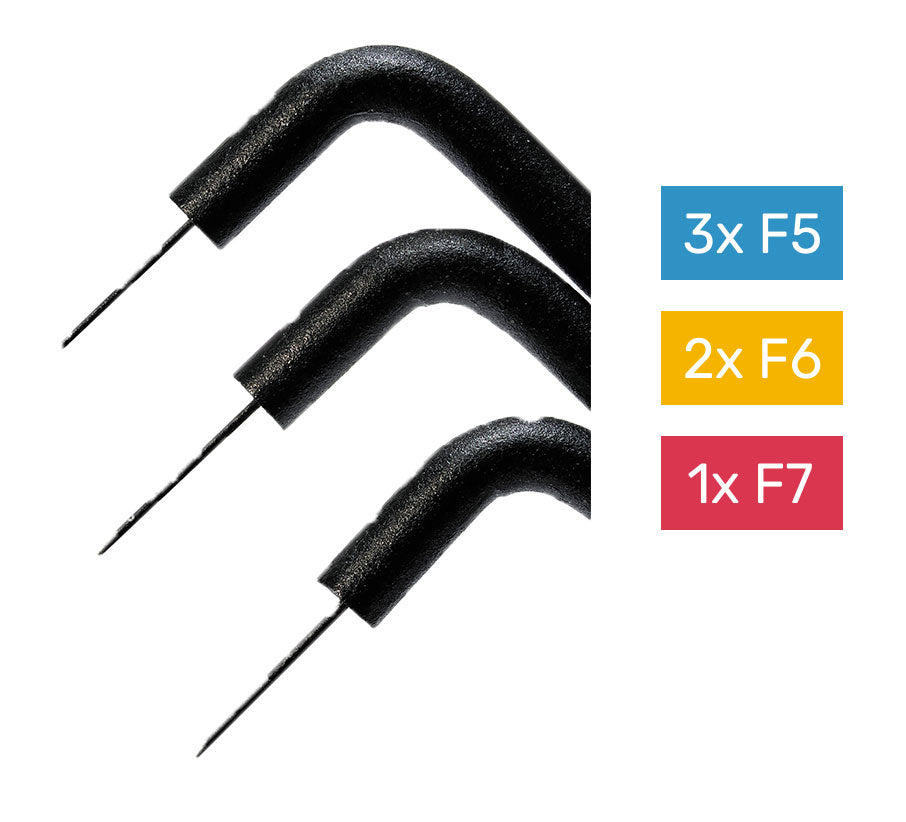 The RLX® needle was created with therapists in mind, giving alternative seating positions to work from.
The right-angled design allows the therapist the option to sit behind the client when working on their face, neck & decollete.
Visibility of the hairs & hair follicle opening can be easier to see when sitting over a client.
Areas of the body which can be difficult to reach become easier due to the angle of the needle.

The needle has a finely polished tapered end which makes it smoother for you to insert into the hair follicle. The insulated coating ensures the heat is directed to the exact place it is required. By concentrating where the heat is released, enables you to use less heat to treat each hair, providing your probing is accurate. The coating protects the skin surface from over treatment, lowering your clients discomfort and enhances your results.

RLX® needles are made in the UK from the finest quality, medical grade stainless steel. Individually packaged & sterilsed (gamma irradiation).
Buy RLX® Needles Now
WHY TRUST RLX?

The RLX needles & Rachel's training turn previous ideas about needle choices upside down.
This has enabled quicker results, more control, less skin reaction and less regrowth.
Who wouldn't want those results!
Melanie White, Electrologist &
Tutor

WHY TRUST RACHEL?

I have had over 20 different people perform electrolysis on my face prior to meeting Rachel and I can say with 100% certainty that Rachel is far and away the most knowledgeable and skilled electrolysis specialist I have ever met. I have referred countless patients to her who have all been thrilled with their results.

Consultant Dermatologist Dr Natalia Spierings
FAQ
Can I use the RLX® needle with any machine?

RLX® needles require a F shank needle holder.

Can I used RLX® needle with a Galvanic current?

Unfortunately not, the insulted coating makes it unsuitable. We can produce an uncoated version of the RLX® needle should it be demanded.

I have a K Shank needle holder can I use the RLX® needle?

Unfortunately not, but you should be able to purchase a F Shank needle holder to use with your machine.

What size needles are available?

RLX® needles are made in an F Shank size 5, 6 & 7.

Do you ship worldwide?

Yes, we can ship anywhere, subject to additional shipping cost.